Exhaust air heat pumps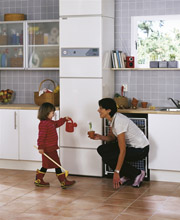 An exhaust air heat pump extracts air via ductwork connected to the warm areas of the building such as bathrooms, kitchens and utility rooms. Heat is removed from the air and transferred into the heat pump's refrigerant circuit before being discharged to the outside. The vapour compression cycle of the heat pump then raises the temperature of the refrigerant and transfers the heat into a water based system that can either warm the domestic hot water or heat the building.
They are most suitable for smaller properties with a floor area up to 100m2. Units are approximately the size and shape of a standard fridge-freezer and are fitted inside the building.
Exhaust air heat pump benefits
When combined with underfloor heating, EAHP units can cut energy consumption by up to 30% compared to using radiators
A good alternative for properties with no access to gas
Low carbon emissions
Lower heating bills with a high-efficiency system
Life expectancy of over 25 years
Ideally suited to apartments
No expensive groundworks
Renewable Heating Technologies