Ground source heat pumps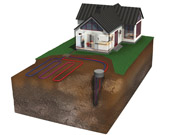 A ground source heat pump is an electrically powered system that uses the natural energy stored in the earth to heat your home. They take advantage of the fact that the top 15m of the Earth's crust maintains a year-round temperature of approximately 12°C.
Installation of ground collectors takes two forms, the most common being pipes laid one metre below the surface in a series of horizontal trenches. Alternatively, pipe can be placed in one or more boreholes. The pipe is usually a closed circuit filled with a mix of water and anti-freeze that absorbs heat from the ground. This heat is then concentrated and available for domestic hot water and underfloor heating.
The principle is simple, and the result is low-cost comfortable heating that uses sustainable energy and causes no direct emissions or other damage to the environment.
Ground source heat pump benefits
Overall maximum grant of £1,200 or 30% of the relevant eligible costs, whichever is lower
Using underfloor heating combined with a ground source heat pump cuts energy consumption by an impressive 30% compared to radiators
Helps to conserve the earth's dwindling supplies of non-renewable fossil fuels – coal, gas, and oil
Units are about the size and shape of a fridge freezer and can be situated internally
Lower heating bills
Renewable Heating Technologies