Stephen Grayston
Harnessing Energy, Creating Comfort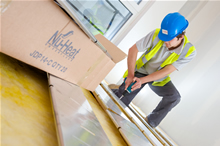 Concept Heating & Renewables fitted warm water underfloor heating into six detached houses on behalf of exclusive property developer, Saxon Ridge Properties.
Stephen Grayston, Director of the property development firm, talks about his experience working with Concept:
'I have been in the property development business for a number of years and I think it's fair to say that Concept are probably one of the most professional company's I have ever had the pleasure of working with.'
'Not only is their product knowledge second-to-none but conduct on-site is faultless, which is totally refreshing. I was integrating underfloor heating into to six properties on a very exclusive development, so I had to make sure that the installation team were of a really good standard as I could not risk encountering any problems at a later date. Also, I am living in one of the houses, so I had to make sure all of the homeowners would be satisfied with their heating system and I am pleased to say that they are.'
'In addition to their installation and product expertise, Concept also excel in after sales care. They have instructed homeowners on how to use their systems and are always willing to make themselves available – days, weeks or even months after completing a project – something most companies promise but seldom deliver.'  
'It is obvious Concept take great pride in their work and I would definitely use them again, should the opportunity arise.'
"Concept were totally professional from start to finish and I would highly recommend their service to anybody thinking about investing in underfloor heating or renewable technology"